ATTORNEY JOSE ESTRADA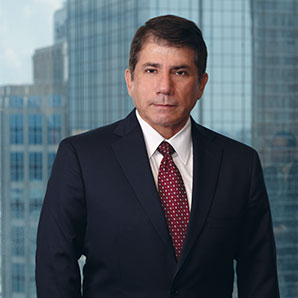 TRIAL ATTORNEY
Attorney Jose Estrada has successfully litigated personal injury, medical malpractice, and wrongful death cases since 1997. Prior to becoming an attorney, Mr. Estrada spent twenty years providing medical care to patients including 12 years as a licensed Physician Assistant. His unique medical-legal experience provides him with an incomparable perspective and knowledge to seek justice for the victims of serious injuries. Having treated his own patients for many of the injuries or medical conditions his clients have suffered, he has a clear understanding of what it will take to make them whole again.
BACKGROUND
Attorney Jose Estrada grew up in the Tampa Bay area. Upon graduating from St. Petersburg High School, Mr. Estrada enlisted and served in the United States Navy. It was as a naval hospital corpsman that he began his 20 year trajectory in the medical field. After serving honorably for six years, Mr. Estrada pursued his formal medical education at St. Petersburg Jr. College, and at the University of Florida where he was awarded a Bachelor of Science degree in Health Science. Mr. Estrada thereafter became licensed as a Physician Assistant by the Florida Board of Medicine and dedicated 12 years to providing his patients with the highest standards of medical care.
His thirst for knowledge, and desire to help those in need, led him to law school. Mr. Estrada graduated from Stetson University College of Law, cum laude, in 1997 and for nearly twenty years has focused his legal practice on protecting the rights of the injured.